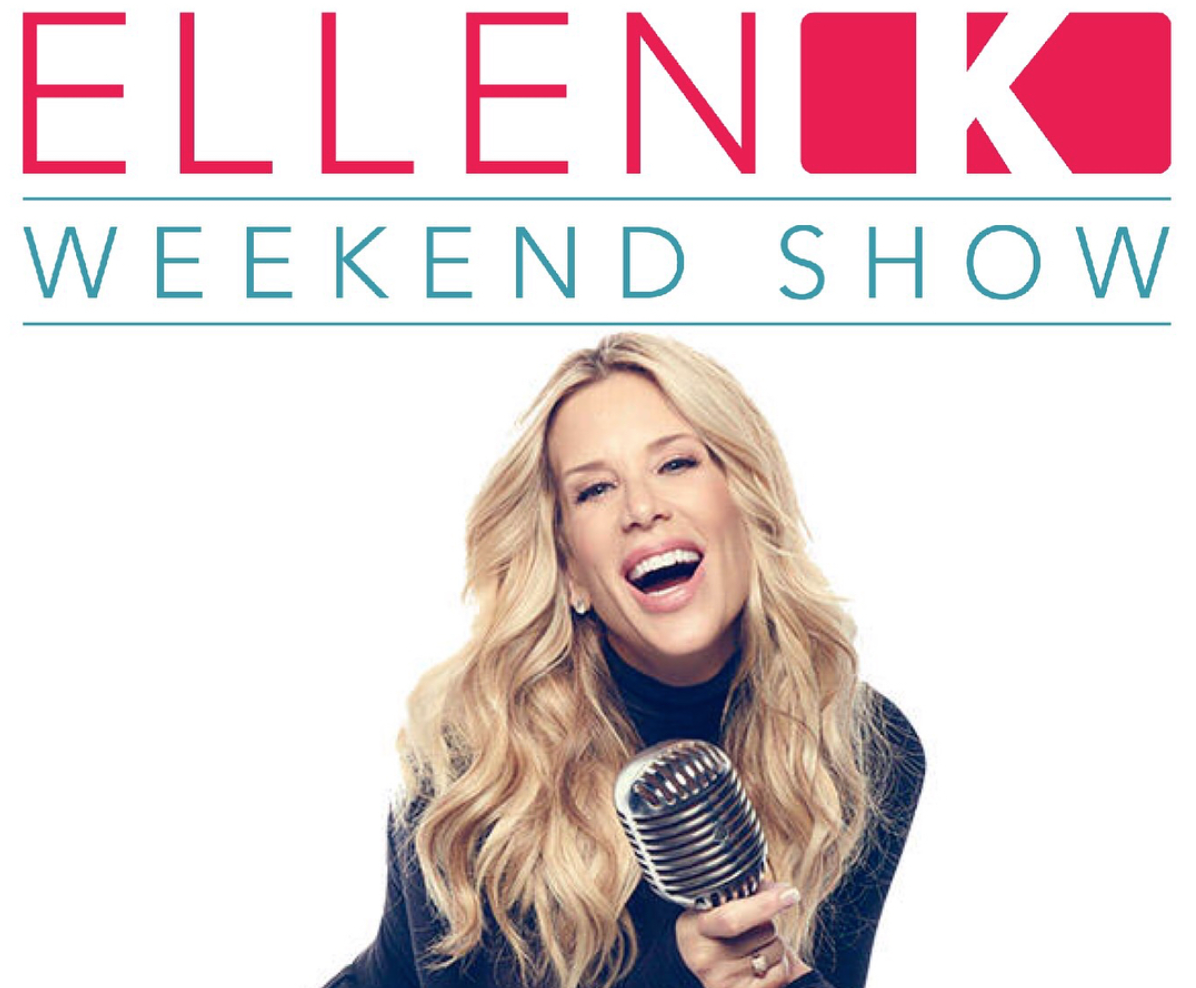 iHeartMedia, the leading audio company in America which also has a greater reach in the U.S. than any other media outlet, today announced the debut of the nationally syndicated "The Ellen K Weekend Show." Led by trailblazing radio icon and iHeartMedia Los Angeles KOST 103.5's morning show host Ellen K, the new four hour Adult Contemporary (AC) weekend program will originate from Los Angeles and debut on Saturday, July 28, 2018 nationwide.
"The Ellen K Weekend Show" will feature custom tailored content for an audience that wants to feel informed on lifestyle trends, inspired by "feel good" moments and enhanced by shareable factoids. Listeners will also enjoy the latest showbiz news and interviews with the biggest names in music like: John Legend, Lady Gaga, John Legend, Meghan Trainor, Josh Groban, Kelly Clarkson and more. The program will launch this Saturday, July 28, 2018 across 10 iHeartMedia stations nationwide, including: KOST 103.5 in Los Angeles, 106.7 Lite fm in New York City, 93.9 LITE FM in Chicago, SUNNY 99.1 in Houston, 97.1 WASH-FM in Washington, D.C., 100.3 WNIC in Detroit, 99.9 KEZ in Phoenix, K103 Portland in Portland, Q 101.9 in San Antonio and Sunny 106.5 in Las Vegas; and will expand to 30 additional markets on August 25, 2018. In addition, the program will be available on iHeartRadio, iHeartMedia's all-in-one digital music, podcasting and live streaming radio service.
"Ellen K is one of the most popular hosts in radio and one of the most well-known women in media today," said Tom Poleman, Chief Programming Officer for iHeartMedia. "Her success as the leading female host for a morning drive program in Los Angeles is a direct result of her empowering and upbeat view as a modern mom navigating everyday life. Ellen K has the unmatched ability to enlighten, educate and entertain and she has been a trusted voice in the community for over 20 years. We're thrilled for the opportunity to bring the 'The Ellen K Weekend Show' to listeners nationwide."
As one of the most recognizable voices in radio, Ellen K is the host of the top-rated "Ellen K Morning Show" on KOST 103.5, Feel Good Los Angeles! She landed her own show after co-hosting with Ryan Seacrest for 12 years on KIIS FM Los Angeles, and on the nationally syndicated "On Air With Ryan Seacrest." The California native began her career in radio while in college at Purdue University and later worked at stations in San Diego and San Francisco before joining KIIS-FM. Ellen regularly appears on the CBS daytime show "The Talk," and has been the voice of The Grammys, The Academy Awards and was most recently selected as the voice of the hit ABC prime time show, "The Proposal." She is also the narrator for "My Big Fat American Gypsy Wedding" on TLC and "Hatched" on the CW. In 2012, Ellen was honored with a star on The Hollywood Walk of Fame for her work in radio, and was awarded the inaugural Airblazer award by the MIW – Mentoring and Inspiring Women in radio.
"It's hard to believe it's been three years since I left 'On Air with Ryan Seacrest' to start up the 'Ellen K Morning Show' with iHeartMedia, and now to broadcast the new 'Ellen K Weekend Show' across iHeartRadio stations nationwide is a dream come true!  This thrilling new weekend venture is the continuation of the exciting growth we've experienced in Los Angeles," said Ellen K.  "We pride ourselves on connecting with our listeners in a meaningful way and the new weekend program is definitely a feel good show…and I think we need more of that in the world today and I'm happy that iHeart agrees.  iHeartMedia has long been an important partner to me,  and I am grateful to the entire team for the opportunity."