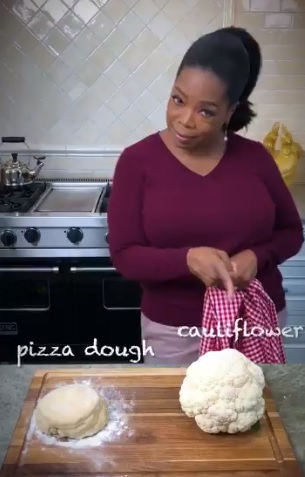 Oprah Winfrey has just released a new line of frozen cauliflower pizzas!
The experienced Weight Watchers investor, has carefully crafted four savory recipes with the help of Kraft Heinz, to make a delicious healthy pizza option–cauliflower!
These Supreme, Pepperoni, Five Cheese and Fire Roasted Veggie recipes are added to her O, That's Good! line of yummy, healthy, food alternatives.
Who doesn't love pizza? We sometimes do feel guilty eating pizza because of all the crust. Now, we can have all the flavor and not the guilt, with each pizza having 12-15 grams of protein and just 280-330 calories!
Find these yummy pies in the freezer aisle at your local grocery store now!
What style of pizza fits you?!
Bet y'all didn't know I had hidden pizza talents! Been taste testing a lot of pizza's to get this just right. The crust is made with a twist of cauliflower but if I hadn't told ya you'd never know. #OThatsGood pic.twitter.com/4m2W74VE22

— Oprah Winfrey (@Oprah) August 22, 2018