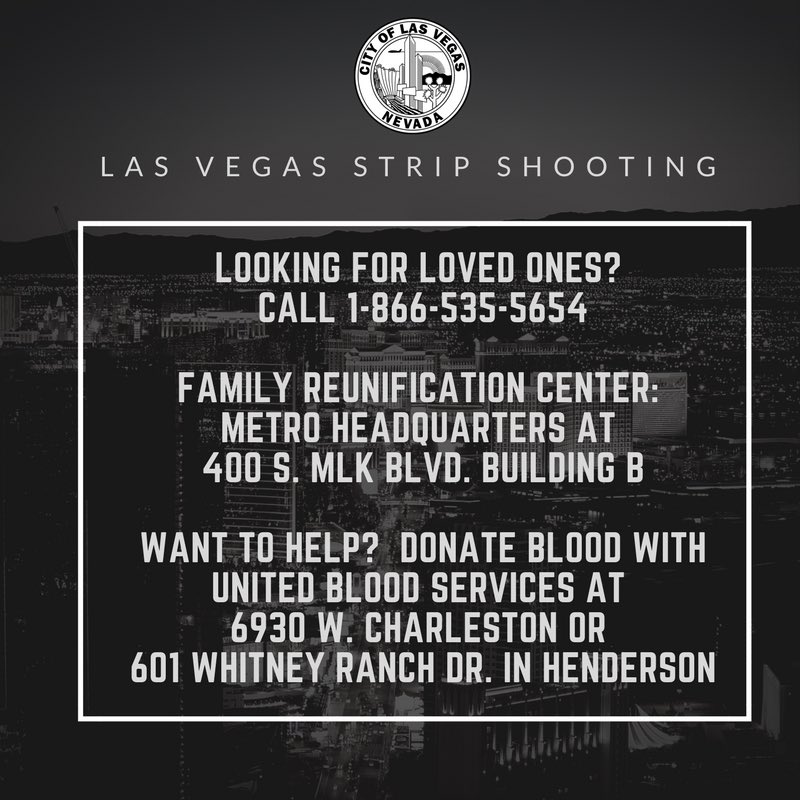 The deadliest mass shooting in  U.S. history happened yesterday at the Route 91 music festival in Las Vegas. As of right now, there are over 50 confirmed dead and over 500 injured.
There are people still missing in Las Vegas for many reason, such as: injury, stuck at hospital, hiding out somewhere, in a strangers hotel room waiting for safety, cell phone battery could be dead and some have yet to make it back to their hotel rooms. Whatever the case may be, if you're trying to contact a loved one who you believe was there, the Las Vegas Metropolitan Police Department has asked to share this number: 1-866-535-5654  for anyone trying to get in contact with their loved ones.
The Safety Check feature on Facebook was also activated for Las Vegas, so users could also let know friends and family know they were safe.
Last night gunmen identified as Stephen Paddock, opened fire from the 32nd floor of his hotel room at Mandalay Bay, shooting down at the concert from over 1,000 feet away. He was pronounced dead at the scene by a self inflicted gun shot wound before SWAT was able to arrive. The shooting is said to have last nearly 5 minutes.
For families looking to locate missing loved ones, please call 1-866-535-5654.

— LVMPD (@LVMPD) October 2, 2017