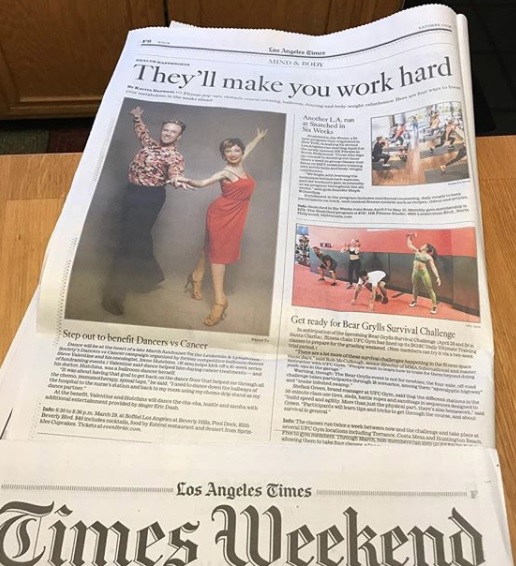 This will hit you right in the feels! When cancer strikes, no one is ever prepared.
"Dancers vs. Cancer" is a benefit hosted by Cancer Survivor, Steve Valentine and his Oncologist, Dr. Irene Hutchins. They first met when Steve was diagnosed with Hodkin's Lymphoma. His Oncologist, Dr. Hutchins was there to treat his life threatening diagnosis and help him prevail this awful disease. Little did they know, they both shared a passionate art… Ballroom dancing! Just a couple of years later, they're now partnering up as dance partners and hosting a benefit together.
All proceeds will support LLS, Leukemia & Lymphoma Society. Watch them Cha-cha, Hustle, Samba Dance and perform to Gloria Gaynor's "I Will Survive" mega hit.  During treatment, she told him they'd dance together once he beats the disease. Well, that time is now! Join them this Thursday at the Sofitel Los Angeles at Beverly Hills on March 29, 2018 from 6:30 PM – 8:30 PM PDT in the Esterel restaurant Patio.
Anyone is invited to attend and support the benefit, tickets cost $40. For more info, visit:
"Dancers vs Cancer Benefit Hosted By Steve Valentine & Dr. Irene Hutchins"