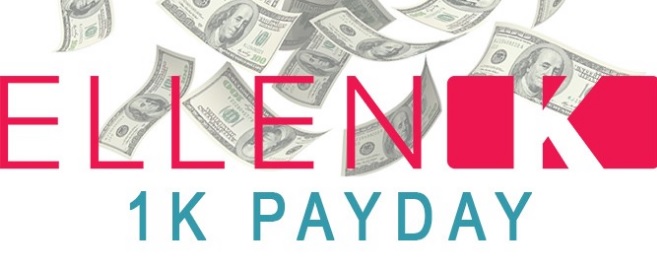 Thanks to San Diego County Credit Union (SDCCU), the Ellen K $1K Payday is back starting tomorrow morning! Here are some tips on how to play and win:
Listen to the Ellen K Morning Show on KOST 103.5 FM anytime between 5am-10am weekday mornings.
Listen for the song of the day to play. When you hear it play, get your phone ready to call in.
Call the KOST hotlines at 1-800-929-KOST, that's 1-800-929-5678
Be caller 20 and GET PAID $1,000!!!
Tomorrow morning, you're listening for "Wanna Be Startin' Somethin'" by Michael Jackson.
We're ready to make it your Ellen K $1K Payday! Listen to the #EllenKMorningShow between 5a-10a if you "Wanna Be Startin' Somethin'" plays, caller 20 wins $1,000! Help us sing it, "Ma ma se, ma ma sa, ma ma coo-sa, ma ma se, ma ma sa, ma ma coo sa!" @officialellenk @kost1035fm pic.twitter.com/drOVjSZ0Gc

— KOST 103.5 (@kost1035fm) May 29, 2018